Segment conveyors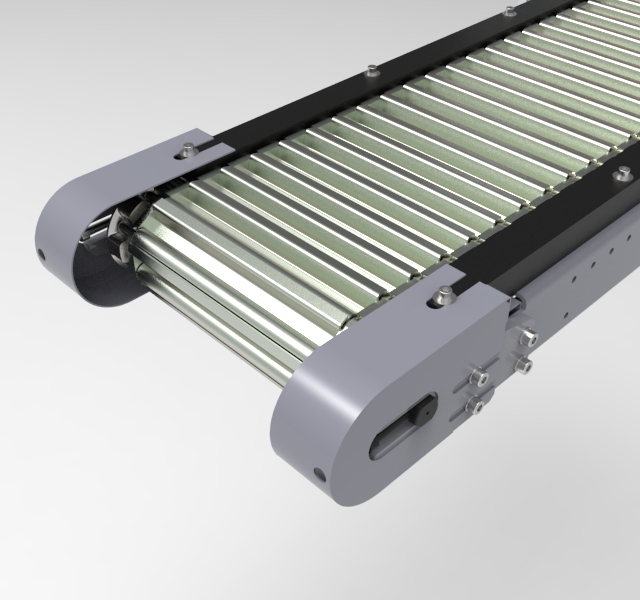 high durability and easy maintenance

wide dimensional variability
Segment conveyors
Stainless steel conveyor
The drive wheels, metal belt and supporting structure can be made of stainless steel (example here) . According to the customer's needs, we will choose a suitable stainless steel for his industry, the stainless steel conveyor will become an indestructible part of your operation - suitable through chemical to food operation. It can be produced in any length, width and load capacity. Such a conveyor is maintenance-free.
Conveyor for food industry
As a stainless steel conveyor, it is also suitable for the food industry. This is a commonly used stainless steel and several specific modifications to prevent abrasion or wear of the belt during operation. It is easy to wash, resistant to all environments, at the same time it can be used outdoors.
Conveyors for washing lines
Thanks to the stainless steel design, caspus links and the possibility of permeability, it is also suitable for continuous washing or washing of material and semi-finished products. It is possible to integrate other elements into the pockets, which will make washing more efficient or prevent the material from falling out.
Conveyors for heavy traffic
Our construction has a very durable construction suitable for high loads. Thanks to the stainless steel material and rigid construction, it is able to withstand any environment and load. He doesn't mind dust or acidic environments. Long-lasting conveyors are a suitable choice for those for whom existing technology is not enough. We will be happy to provide a sample for attempts at destruction and evaluate whether you have found a more durable design, we will leave it to you.
Conveyors with metal belt
Conveyors with a steel segment belt for the transport of waste such as steel sawdust and chips, sheet metal cuttings arising, for example, during pressing or laser cutting, etc. The segment conveyor connects the elements of a redler conveyor with a chain conveyor. Animation with theory here.
Furnace conveyors
Where it is not possible to use a roller conveyor, in the refractory belt design the conveyor is suitable as a handling element at high temperatures. The cells can be thermally shielded so that they do not radiate a lot of heat, so they do not create high heat losses.
Conveyors for presses
Due to the highly durable construction, these conveyors are also suitable for press shops as conveyors exporting waste - scraps. The chain segments are made of a very massive construction, which is resistant to damage and does not require maintenance. The conveyor belt will not be damaged by falling sharp objects
Chip conveyor
Thanks to the possibility of shaping the conveyor according to any needs (eg Z), the ability to filter the coolant and high resistance, suitable for balancing chips and chips from machining centers. The chip conveyor can be started by CNC control, or automatically in given cycles. The conveyor is resistant to material jams and will not be damaged by the impact of larger pieces. In case of larger impacts, the cells can be equipped with damping elements to reduce noise. The chip conveyor can be equipped with a filter mechanism for draining the cooling emulsion. Sample here.
Waste conveyors
Conveyors can be used for any other purpose of waste handling - glass and glass shards, municipal waste, sawdust and wood processing industry. Thanks to its high resistance, the conveyor can also be used as a conveyor for sewage treatment plants and sludge transport. At the same time, it is possible to use them as, for example, special mechanical filtration of watercourses - in the same way as mechanical filtration of gratings, only with the ability to continuously export river waste. Sample here.